Oliver's Cider & Perry - Almost a Pet-Nat, But Still a Juicy Perry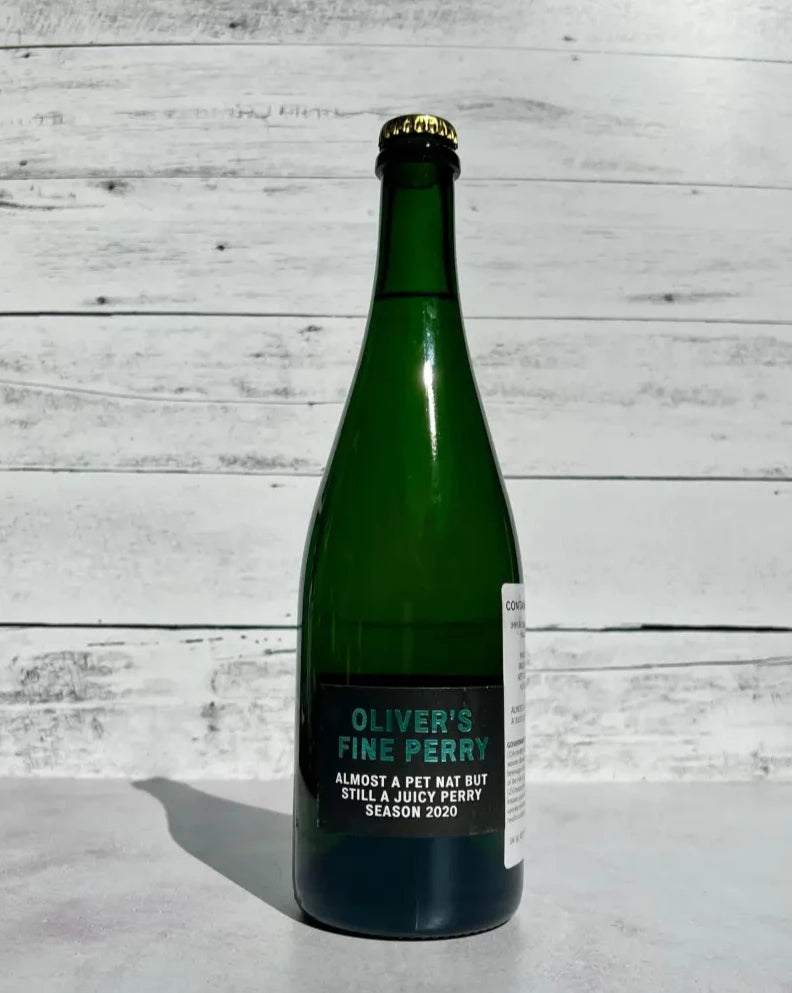 Oliver's Cider & Perry - Almost a Pet-Nat, But Still a Juicy Perry
 A blend of keeved perries fashioned from perry pears grown on old standard trees. Varietals include Blakeney Red, Red Longdon, Gin, Red Pear, Winnall's Longdon, Hendre Huffcap, and some Brandy, and Butt.  Bottled with some fermentable pear sugars remaining to give gentle conditioning in the bottle. Hence also some sediment, so pour with care.
Citrus features heavily, both on the nose and in the taste, so a base of rhubarb, gooseberry, and a hint of ginger with nice melon and lime in the mid-range and some lychee and elderflower in the top end. The bubbles fill the mouth with a nice mousse and there is a touch of biscuit in the finish. Wonderful as a celebratory drink on its own while having the ability to go along with classic perry combinations of food such as light cheeses, and aromatic cuisines with gentle spice and meats.
Oliver's goal is to make a distinguished selection of fine Herefordshire and Three Counties ciders and perries and to relish doing it and do it profitably. The cider and perry is fermented by wild yeasts in small batches, using fresh pressed (mostly hand picked and unsprayed) fruit with minimal intervention. They strive to "take what the fruit gives", respecting the great heritage and traditions of the past but with an eye to innovating for the future. Oliver's aim to give a unique personal service, valuing the health, safety and well being of our customers, consumers, employees, the earth's natural resources and the environment.
🍎🍐 Varieties: Perry Pears
Features: Pears and No Sulfites Added
Shipping available across U.S.
Low stock - 1 item left

Inventory on the way
Regular price
$33.00
$33.00